Innovation, Agile Management, Internationalization – an exciting summer semester at the International Business School in Berlin
As vaccines are being rolled out and COVID is being slowed down, the summer semester 2021 still saw large COVID regulations being imposed. However, students of both the bachelor course International Business Management (B.A.) and the master's program International Business Management (M.A.) at Hochschule Fresenius in Berlin had ample opportunity to engage in learning outside the classes they heard: Several exciting events, some online, some in person, were hosted for them to continue their learning experiences practically.
INSIGHTS INTO CORPORATE PRACTICE
An example of this is a workshop with Accenture, one of the world's largest service provides in the field of management and strategy consulting as well as technology and outsourcing, with all students of the programs being invited. Hosted by Stefanie Reitz and Stella Kramer, a former student at Hochschule Fresenius, the event ran for more than four hours, but all attendees stayed longer than thirty minutes after the official end due to ask questions, challenge ideas and have interesting discussions.
During the workshop, the students for example learned based on real-life cases more about the innovative possibilities of design thinking and human centered consulting as well as the challenges they face in the public sector. Additionally, they explored in extended group works how Accenture does collaborative work. Thus, they gained valuable insights into how consultant work is done, what their day-to-day work looks like and how to work successfully with clients in a complex environment rapidly changing in the face of advancing digitalization.
KNOW-HOW ON AGILITY AND INTERNATIONALIZATION
In another exciting event with Accenture with the topic "Agile Management: How to work in a world of constant change", the students received a lot of information about the agile work culture: Two of Accenture's experts, Kimberly Reutter and Lucas Kiniziak, also a former student at Hochschule Fresenius, presented them via Zoom concepts of agile management especially in conjunction with digital transformation. Together with the students they also discussed working methods of agile organizations, how to effectively support clients in a complex and changing environment and spoke with them about the fundamentals ideas behind having an agile mindset.
However, the events didn't only focus on collaborative and agile working methods and digitalization, but also covered the topics strategic management and internationalization. In a digital guest lecture, Nick Lawitzke spared more than three hours to teach the students of the master's program International Business Management (M.A.) more about the processes and structures of how PwC, Germany's leading auditing and consulting company, deals with internationalization projects and how international strategic management works. Another big topic was born global management, with entails new start-ups that essentially immediately internationalize after forming, which presents a very new challenge for managers.
COOPERATION FOR SUCCESSFUL FUTURE
The final event of the summer semester was another special highlight for the master's students: As part of their exams they were given the opportunity to work with renowned, internationally active companies as the consulting and IT service provider Capgemini Invent, Sony Music, the start-up consultancy Pacemakers and the software developer Signavio SAP. On their projects, the students worked in four groups, carried out with real data and real relevance. Furthermore, they were supported by mentors and coaches from the companies and also had frequent alignments with the clients.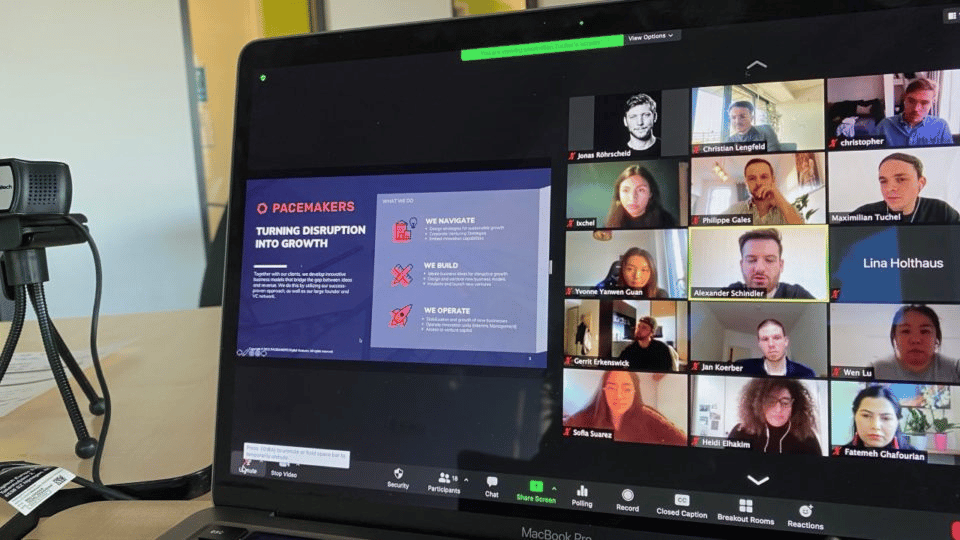 Their solutions were a great success and actually used for the clients. Larissa Profe from Capgemini Invent US stated: "The students worked as professionals and extremely client orientated. Their contribution to the real challenges and chances we face was huge, and we are thankful for their created value – well done!"
Prof. Dr. Christian Lengfeld, Academic Dean on the programs International Business Management (B.A.) and International Business Management (M.A.) at Hochschule Fresenius in Berlin, was also satisfied with the student's solutions and the way the summer semester progressed: "Together with our project partners we worked on solutions for real challenges of internationally operating companies. Every semester it is exciting and impressive to see the enthusiasm and passion with which the students work on the projects and develop themselves. The results are the proof." Together with the lecturers and students of the programs, he is already looking forward for many new, exciting events in the winter semester.